$60 per 60 minutes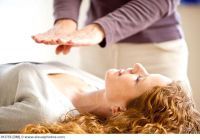 Reiki is a Japanese form of energy work that cleanses and balances the energy system in the body. As a result, the body's natural self-healing mechanisms strengthen, helping to establish optimum health. During a session, I work directly with your energy field to remove blockages, detoxify your system, and restore your vital life force energy. Reiki utilizes a gentle laying on of hands to conduct the necessary energy force between us. The benefits of Reiki range from the release of habitual mental/emotional stress to alleviating chronic pain.

$80 per 60 minutes
Swedish Massage is a very relaxing and therapeutic style of bodywork. It combines oils or lotion with an array of strokes such as rolling, kneading, and percussion to help the body improve its circulation. The benefits of this type of bodywork are wide-ranging and include relief from aches and pains, decreased stress levels in the body, enhanced mental clarity, improved appearance, and greater flexibility.

$80 per 60 minutes
Deep Tissue Massage is a form of bodywork that aims to relieve tension in the deeper layers of tissue in the body. Deep Tissue Massage is a highly effective method for releasing chronic stress areas due to misalignment, repetitive motions, and past lingering injuries. Due to the nature of the deep tissue work, open communication during the session is crucial to make sure you don't get too uncomfortable. Keep in mind that soreness is pretty common after the treatment, and that plenty of water should be ingested to aid with the flushing and removal of toxins that will have been released from the deep tissue during the session.

$80 per 60 minutes
A combination of styles such as Swedish, Deep Tissue and Stretching focusing on areas of concern.

$120 per 90 minutes
A combination of styles such as Swedish, Deep Tissue and Stretching focusing on areas of concern. Additional time to address deep tension and stress.

$160 per 120 minutes
A combination of styles such as Swedish, Deep Tissue and Stretching focusing on areas of concern. Additional time to address deep tension and stress.

$160 per 90 minutes
Hot Stone Therapy is a style of massage where heated stones are placed at specific sites on your body to deepen relaxation and promote circulation in your muscles. Muscles that are heated with these stones release tension and stress much more deeply and quickly than with a traditional massage. The overall experience is very relaxing, nurturing, and rejuvenating.

$80 per 60 minutes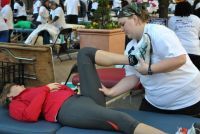 Sports Massage is a type of massage designed for highly active people who engage in athletics. Engaging in sports is harsh on the body and can often lead to injuries in both the short and long term. Sports Massage enhances performance and prolongs a sports career by helping to prevent injury, reduce pains and swelling in the body, relax the mind, increase flexibility, and dramatically improve recovery rates. Sports Massage is also highly effective in aiding the rapid recovery of an athlete from an injury by encouraging greater kinesthetic awareness and in turn promoting the body's natural immune function.

$80 per 60 minutes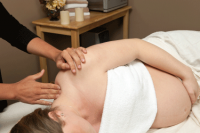 Pregnancy Massage is a style of bodywork designed specifically for pregnant women. Pregnancy is a time when a woman's body endures tremendous stress due to dramatic physical and emotional changes. Using various techniques specially developed for the expecting mother, Pregnancy Massage helps release the pain and discomfort experienced throughout pregnancy. The benefits are profound, including emotional support, the relief of joint pain due to extra weight and postural imbalance, and improved breathing and relaxation.

$160 per 90 minutes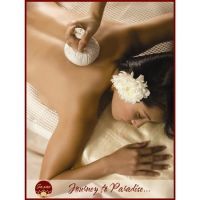 The Thai herbal ball massage originates from Thai herbal medicine and dates back centuries. This massage features authentic hot herbal balls direct from Thailand, aromatherapy, massage, stretches and a stimulating scalp massage that will soothe tired, aching muscles and leave you stress-free and on your way to paradise.
The stimulation of pressure points on Sen lines opens the body's energy pathways, allowing healing energy to flow. The blend of herbs used has a therapeutic, relaxing, and invigorating effect on the body and mind, while also soothing sore and overworked muscles. The can also be used to relieve sprains, strains of muscles and tendons, sinus pressure, migraines, stiffness in the joints, inflammation and to stimulate circulation.
The Swedish techniques improve localized circulation and initiate the relaxation response as well as targeting specific muscles for release of trigger points and adhesions. The Thai stretches keep ligaments, tendons and muscles limber, improving the flow of lymph and overall circulation.

$$120. per 90 minutes

Warmed bamboo, Swedish and Deep Tissue Massage
= Bamboo-fusion™
This massage incorporates the use of light Swedish strokes to begin client relaxation. Once the body has been prepared with warm coconut oil the warmed bamboo are introduced to the client. The combination Swedish and warm bamboo prepares the client's tissue for deeper work. The warmed bamboo sticks are used as a therapist would use an elbow or thumb to ease areas of deep tension. Warmed bamboo is effective on sore shoulders, tight IT bands and areas of chronic overuse and stress. This service can be customized, spending more time on areas that need it, such as back,legs,shoulders.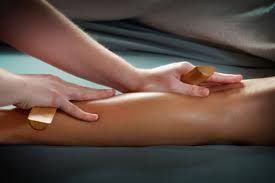 $140 per 130 minutes
HOUSE CALL ONLY!
This can be for husbands, wives, boyfriends, girlfriends, mothers, dads, sisters, aunts, uncles, or two friends.
Two massages performed at the same location, not at the same time. Back to back, as an out call to a home.
The second massage is discounted as I am not having to carry my table up a second set of stairs.
HOUSE CALL ONLY!